Thursday September 18th, 2014
Weather today…sunny, warm, too nice really. Hardly a breath of wind either. The early morning drive to our first race was done in and through and sometimes under a blanket of fog. If Apple stores it's clients files in the "cloud" we were in it.
In total 9 races were run. And as expected all teams earned penalty points. The courses were fast and for GT the penalty free window was a mere four seconds per race.
John Jr. and Justin, car#9, racked up 3:22 in penalty minutes. Behind Oldford and Oldford, car #715, with 1:48 in penalty time. So the M3 is now in second place in Modern division.
In GT we ran nine very fast races. In fact our times in Bonavista were virtually the same as the Targa cars. However, end if day it looks like John Sr and Craig, car #1333, are holding fast in first place, with Cody and Nicole car #1334 holding onto third overall in GT.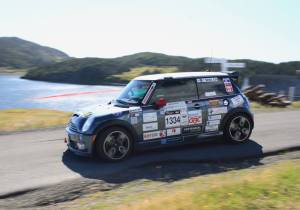 There was some excitement in car #1334 when the brakes failed in the last race through Bona Vista. Some quick thinking and "McGivering" by our resident mechanic Garret saved the day. He managed to do a road side quickie brake bleed, with parts he borrowed off our service rental van. Nicole and Cody were then able to finish the last two races and lost zero penalty points in the bargain.
Friday will be the last day of the event. We have six races to complete. Then we will see who finishes where.
All in all a very exciting week of rallying with lots of drama.
All for now.
30